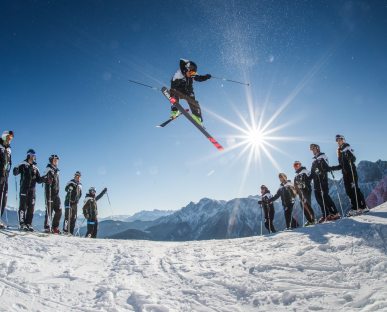 New School
Slope Style – Freeriding – Halfpipe – Big Air – Skier Cross
Snow sports the new way: if it's fun, it's cool! Big Airs, Halfpipes, Quarterpipes, Slope Style, Big Mountain and Skier's Cross - these are the new competitive styles that you HAVE to know to be IN.
And young skiiers wear exactly the same wide-cut pants and jackets as style-conscious snowboarders.
"New Schoolers" prefer extremely short boards with slight tapering to execute Pipes and Big Air - and Twin Tips that also curve up at the back. Skis for the freeride zone on the other hand are relatively long at around 1.80m to 1.95m and also quite wide so that they don't sink into powder snow.